Xmas CD Project
Jump to navigation
Jump to search
The Christmas Benefit CD Project was a musical recording project initiated by Lynne Griever and intended to raise funds for the RDA, Red House Media, and the charity for which Lynne was working at the time (possibly the Georgia Coalition to End Homelessness or the Metro Atlanta Task Force for the Homeless.
It was conceived in response to the 9/11 terrorist attacks and was aimed at the Christmas 2001 market. This left a very tight schedule for completion which, unfortunately, the project did not meet; recording and mixing of the CD was completed on approximately 2001/12/24. As a result of this, it "sold" (officially, copies were not sold but instead given away as prizes to donors) very few copies in 2001-2002.
I do not have any records from Lynne regarding the few sales there were, nor any formal listing of RDA's expenses. I don't have any copyright interest on any of these recordings, but as far as I can tell the primary creators are not providing these tracks anywhere either for free or for sale, with the sole exception of one track on YouTube (see track listing), so I see no ethical reason not to provide them for free. They also don't seem to have any kind of web presence for the album anymore, else I would link to that.
This was the first time I ever did digital multitrack production. I was using CoolEdit Pro 2.1 on a machine with, I think, 256 MB (upgraded from 64) and the M-Audio/Delta 66.
Songs
1. A Chance for Peace (YouTube)
2. Hey Mister
3. No One Asked Me
4. Merry Christmas America
5. Everybody's Got a Song
6. A Christmas Lullabye
7. Please Remember Jesus in Your Christmas
8. That Little Ditty (Jody Moore)
9. Remember (Jody Moore) (toot.cat)
10. The Lull Is Over
11. Children of the Son
12. Reach Beyond the Veil (toot.cat)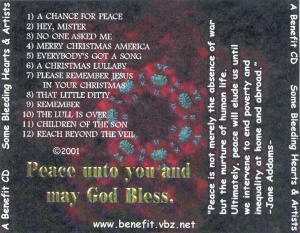 Profit Sharing
The agreement between the three parties consisted, in part, of the following:
Revenue from "sales" (donations) would go first to cover the expenses of producing the CD
Revenue above and beyond expenses (i.e. after expenses had all been covered) would be split 3 ways equally between RDA, Nick/RH, and the charity
I did not charge anything for my time, working instead "on spec" for a share of the proceeds as given above.
It was not specified in what order expenses would be covered, in the event that revenues were less than expenses. Both Lynne/RDA and Woozle/RH contributed monetarily to the project.
Personnel

Bubba and Lynne Griever
Jody Moore : Lynne's second-oldest son
Frank and Jessica Whitehill: Jessica is Lynne's third-oldest daughter; Frank is Jess's husband
Adam: last name not known; no family relation
Woozle: (known as "Nick" then); no family relation. See also Woozle's audio projects.

Credits

Songs: I think all of the songs are by Lynne, except where noted.
Guitar: Mostly Lynne and Jody; Woozle played on one track
Vocals:

Lead vocal: Lynne except "Remember" (lead vocal Jody)
Backing vocals: Frank & Jessica Whitehill, Lynne and Bubba (all in various combinations); Lynne's grandkids sang on 2 or 3 tracks

Drums: Bubba
Keyboards: Woozle
Recording: all recording equipment, space, engineering, and production provided by Woozle except:

Adam provided one or two extra microphones for the final recordings, and worked on early sessions (provided all recording equipment, space, engineering, and production) which were ultimately not used except for the grandchildren vocals. He also very kindly provided digital dumps of those early sessions.

Album art: Bubba (PaintShop Pro 8, with Blade plugin and possibly others)

except for the instrument on the disc, which were drawn by a homeless man whose name I don't think I knew (and then post-processed by Bubba)