2022/11/02
Jump to navigation
Jump to search
Wednesday, November 2, 2022 (#306)
Today is Possible Repair of Dishwasher Day! We are hypothetically very excited. I have jinxed it completely by only washing the items that can't go in the dishwasher; I'm sure I will pay for this later.
Later
Well, it was $130+ for the diagnosis, and it'll be another $400 to replace the motor. That's scheduled for the 10th.
...and then I had to do the dishes. Fortunately, I had cleverly brought pizza home from Costco yesterday, so most of it was just the ones I hadn't had time to do that morning.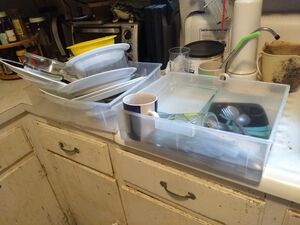 Dishes done: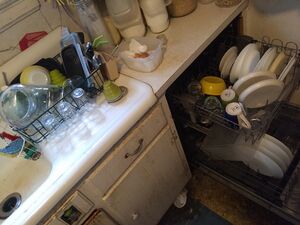 9pm
I started to try to go through my boxes of reel tapes to find sources for stuff to digitize, but... most of them are in large heavy boxes that are over my head. If I'm going to get them down, I need to have a place cleared out to put them that's more accessible.
Next task: start boxing up the books in Mel's room, to clear off shelf space.