2023/05/20
Jump to navigation
Jump to search
Saturday, May 20, 2023 (#140)
Exploring the Jenny-Woods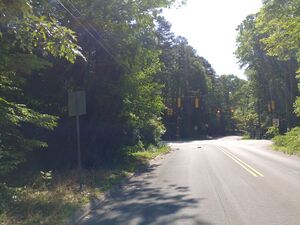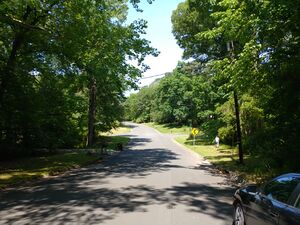 Today is the 40th anniversary of Jenny's disappearance; Harena and K and I went on an expotition to try to find the spot where she was later found, based on their various recollections of what was said and on Harena's having visited there once before not long after it happened, with her dad (who, I presume, had been shown the exact spot by the police).
There's a stream which starts behind the houses at the top of McDowell, and runs all the way down behind houses on McDowell to Pinecrest, where it turns towards the Golf Course. It then joins up with another unnamed tributary coming from Maplewood Cemetery, and then that joins up with Sandy Creek.
As kids, we used to crawl inside the medium-sized pipe where the stream goes under Woodburn, as well as walking in the much larger square pipe where a large tributary (possibly larger than the McDowell one) crosses diagonally under Woodburn and NC751 (at the intersection with the traffic light).
generic treescapes
...cuz I think J would have liked them: